Advertise Your Fintech Brand on Twitter
Twitter is one of the most rewarding mediums for FinTech.
Home to more than 300 million global monthly users
227
million finance-related tweets from US audiences in the first half of 2021
2.6x
Twitter users are 2.6x more likely to use digital financial tools and services than non-Twitter users
54%
increase in tweets about finance in the UK last year
24
million finance-related tweets from UK audiences between 2021 and 2022
1.4x
Users are 1.4x more likely to use Twitter to learn about finance versus Instagram, LinkedIn, TikTok, Reddit, and Snapchat
Book a demo
Achieve Results in the FinTech Market with our Solutions
The Fintech industry is constantly growing. By the end of 2022, the value of the global fintech market is expected to reach $310 billion, and according to the Market Data Forecast, $324 billion by 2026. For fintech companies looking to capitalize on this growth, an investment in social media advertising on platforms like Twitter is crucial. An ever-growing market for fintech brands, Twitter provides endless opportunities for brands to connect with audiences and in turn, increase conversions. And with an effective performance marketing solution such as Wise.blue, you're better positioned to unlock Twitter's full potential.
Connect with Wise.blue experts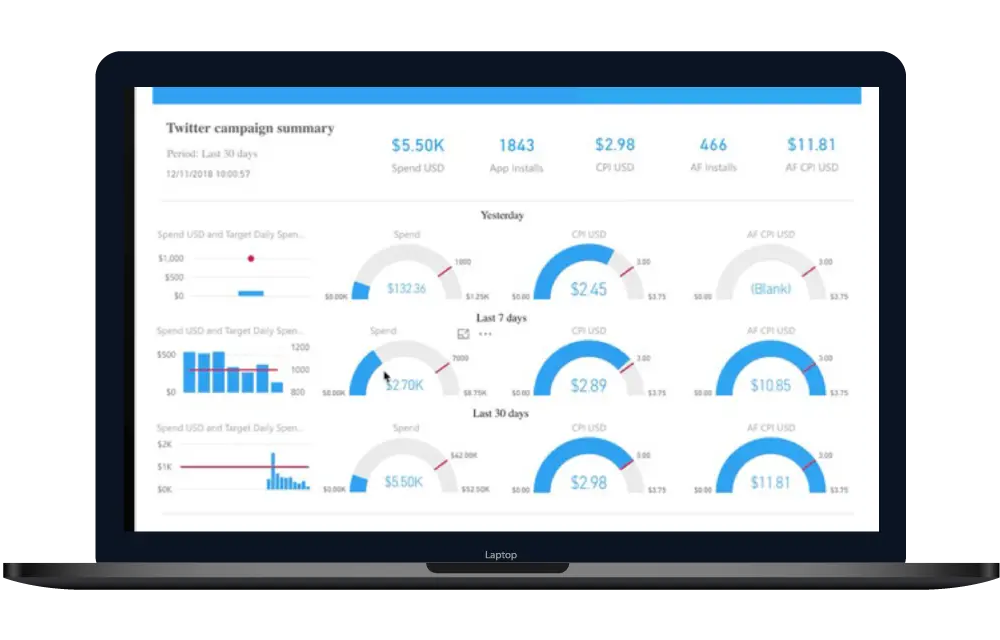 Case Study: eToro
One of the world's leading social investment networks set out to improve their app install campaigns in Italy and Spain and achieve a lower cost per first-time depositors. They partnered up with Wise.blue to test different creative variations and find the best-performing ones.
40%
Cost per result improvement
4x
Higher engagement rate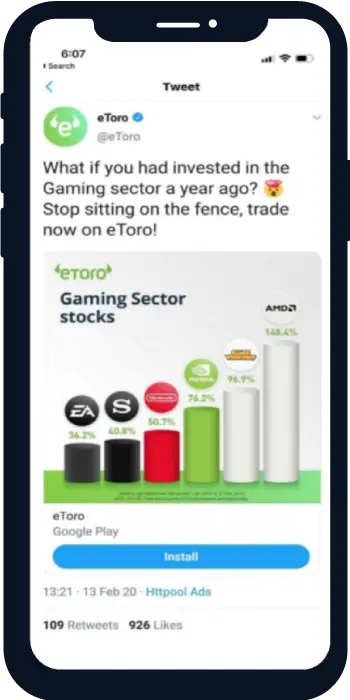 Case Study: Trading212
London-based fintech company, Trading212, joined forces with Wise.blue to leverage engaging carousels and video ads on Twitter for the purpose of attracting new customers and active mobile app users. The Wise.blue team ensured that the campaign was managed 24/7 with settings focused on CPI bidding and high daily budgets.
40x
Higher investment rate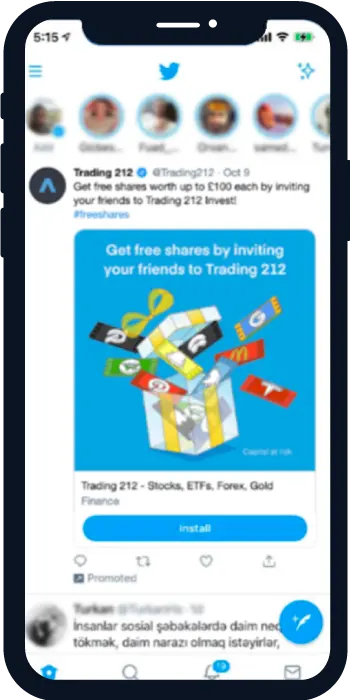 How to achieve your KPIs with Wise.blue's features
ACQUISITION & ENGAGEMENT

Heart2Remind

Share new product launc
Notify about latest updates
Share coupon / discount codes
Put emphasis on promotion or trailers
Remind about events & seminars

"The most popular financial tweets talk about cryptocurrencies, investments, and personal finance. Let Wise.blue help you engage with users that are taking part of those conversations!"

AUTOMATION

Automated Catalog Ads

Simplify and accelerate the ad creation process
Create ads automatically
Share multiple ads with variations in text, visuals, and targets at the same time
Manage multiple ad accounts simultaneously
Schedule ads

Autopilot

Deliver results at a lower cost with AI and data driven optimization
Optimize bid & budget automatically
Gain campaign analysis every hour
Make AI driven decisions

OPTIMIZATION

A/B Testing

Test creatives / audiences / CTA
Improve ad engagement
Increase conversion rate
Reduce bounce rate
Discover the most responsive customer groups
Save time & costs
Let's boost your performance

Our leading performance team consists of Twitter experts, with global experience across multiple verticals and deep technological know how. Think of us as an extension of your team for Twitter performance campaigns.
What can Wise.blue team do for you

We can help you reach the desired KPIs with a combination of senior campaign management experience and in-house tech solutions designed to optimize campaigns 24/7. We also present custom insights on the analysis of your campaign and continuously provide recommendations for further optimization.
Why should you care

In managing performance campaigns, details are what matter. We can teach you to easily understand data and to set up campaigns for the maximum performance. We inform you of any recent updates and feature changes and highlight opportunities to help you grow faster and more efficiently on Twitter. Let us help you to unleash the long-term value of Twitter.
Connect
Ready to outperform on Twitter?