Gamers8 & Heart2Remind
Highlighting events to gaming fans during the Gamers8 festival in Saudi Arabia using Heart2Remind.
Together we wanted to generate awareness among 𝕏 gaming fans on specific events throughout the festival.
One of the biggest gaming events in the world, Gamers8 is the ultimate destination for gamers, e-sport enthusiasts and families, and a competitive tournament among local and international teams.
This thrilling festival usually takes place from July to September at a dedicated venue at Boulevard Riyadh City in Saudi Arabia. This year's gaming event started on Saturday July 6 until Thursday August 31. The festival brings with it immersive experiences, fierce tournaments, whopping prize pools, and live performances meaning there's something for everyone to enjoy.
The 2023 edition included 15 tournaments: Fortnite, Rocket League, FIFA Club World Cup, Tekken, Rainbow Six Siege, Riyadh Masters, PUBG MOBILE, ESL Sim Racing, Starcraft II, Street Fighter 6, PGS 2, CS:GO, PMWI, FIFAE Nations Cup, FIFAE World Cup.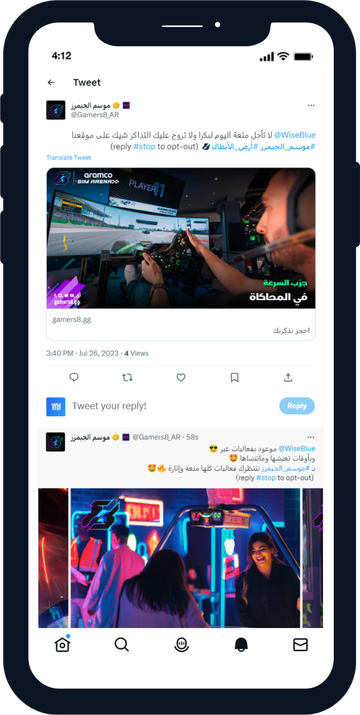 The Approach
Strategy:

To communicate with gaming fans and festival attendees using Wise.blue's unique Heart2Remind automated notification and reminder feature and get as many opt-ins as possible.

Objective:

Generate awareness and participation at specific Gamers8 events throughout the festival

KPIs to track:

Opt-ins for for future notifications, Cost-per-Engagement, Number of personalised notifications
Our approach
Launched an engagement campaign to promote the event for the whole month (August-September)
Reached the maximum amount of audiences and attracted 5,600 opt-in users for future notifications by adding an instant personalized notification that each user receives after liking the post.
Sent 8.057 personalized reminders to the opt-in users about specific Gamers8 events
Strategically chose Carousel Ads for notifications as users were more likely to engage with this ad format which also allowed the client to prompt different events in one post 
Achieved a CPE at only SAR 0.38 ($0.10)
Performance
5,600

User Opt-ins

0.10

Cost-per-Engagement

8,057

Personalised Reminders
Connect
Ready to outperform on 𝕏?