RÉDUIT
Generating Repeat Sales With Heart2Remind
RÉDUIT, an online beauty brand, launched back in 2019 in Neuchâtel, Switzerland.
The RÉDUIT mission is to provide customers with high quality premium skincare and haircare products for all needs. They have used the latest technology to provide customers with smarter, more sustainable products and devices without skimping on quality. Combining highly concentrated ingredients with the latest precise technology, this means RÉDUIT products and treatments will be able to give your hair and skin exactly what it needs when it needs it.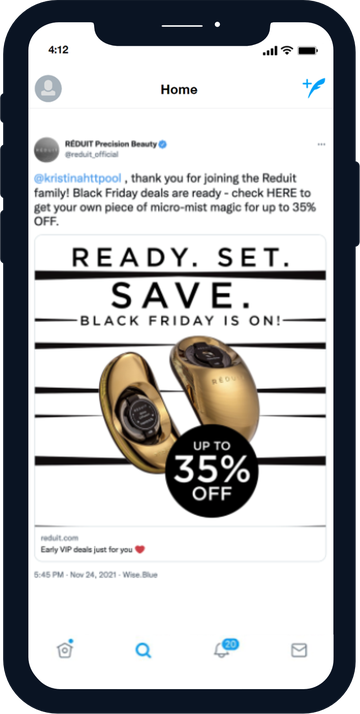 RÉDUIT ran a 𝕏 (formerly Twitter) campaign using Wise.blue services
Objective:

Drive 𝕏 audience to the website by promoting RÉDUIT's Black Friday and Cyber Monday deals.

Goal:

Communicate special deals to the customers and promote a 35% discount which ran for both Black Friday and Cyber Monday.

Target Audience:

English-speaking female audience, aged 25+, who access 𝕏 from a Desktop, iOS or Android device within the US, UK, AU, IE, and CA markets.
How they did it
RÉDUIT ran the Heart2Remind campaign for 12 days. The Heart2Remind Ad format provides clients with a unique feature to activate the users attention during important events or brand deals. It helps to increase traffic to a website if the users are informed about upcoming deals and events which brands are hosting.
The first message was inviting the audience to get notified about special deals for Black Friday Sales period. 
The second message was a reminder promoting a 35% discount offer.
Performance
The RÉDUIT Heart2Remind campaign was effective in generating Repeat Purchases from buyers.

We were lucky enough to hear from Tomislav Britvec, Head of eCommerce at Reduit about why Wise.blue were used for this campaign and how H2R marketing was especially effective for this campaign. 

"We decided to test Twitter as a performance channel in our key markets. The Wise.blue team provided strategic and operational support. Heart2Remind Ad format was instrumental in engaging the audience during the high noise sales period. Wise.blue targeting, campaign optimization, and reporting increased the campaign efficiency. Full transparency along the way combined with frequent status checks unlocked new knowledge and opportunities for Twitter as an incremental advertising platform"
Connect
Ready to outperform on 𝕏?