Zalando
Increasing purchases by 742.49%.
Zalando connects customers, brands, and partners in 25 countries.
An e-commerce company that follows a platform approach, offering fashion and lifestyle products to consumers all over Europe.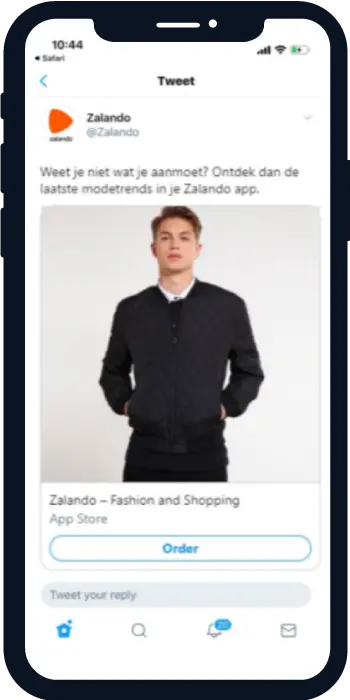 Challenge
Strategy:

To run a complex test campaign and acquire new customers.

Objective:

To test as many audiences and creatives as possible and see what converts.

KPIs to track:

Purchases, app installs, and app clicks.
How they did it
Zalando decided to run a complex test campaign using many campaign variations across audiences. However, they faced a challenge that could not be easily solved: Such a complex campaign with large audiences meant that undertaking the task manually would require an enormous number of resources, time, and dedicated staff. Therefore, they reached out to Wise.blue to take advantage of their technology and expertise, which enabled them to run tests quickly and efficiently on 𝕏. They made the right decision, as their KPIs significantly improved in just 6 months. Audiences were split into various groups to allow wide testing; targeting was based on locations – Germany, France, Italy, Belgium, and the Netherlands – as well as on the look-back period of the last engagement with the Zalando app. Insights were reported weekly and interpreted in a simple manner, enabling Zalando to understand and follow the process, and making sure that it is fully aligned with their marketing and business goals. Continuous campaign optimization and retargeting impacted 70% of the success, as look-back periods were analysed in detail to identify the best audiences to retarget.
Performance
742%

Increase in purchases in the retargeting campaign

407%

Increase in installs in the user acquisition campaign

3899%

Increase in app clicks in the user acquisition campaign
Connect
Ready to outperform on 𝕏?