Outperform on Twitter with Your 2023 Ramadan Campaigns in Malaysia and Indonesia
Widely celebrated by many Muslims in Malaysia and Indonesia, Ramadan is one of the most important periods for brands to connect with audiences
With so much constantly happening and changing in the world of retail and ecommerce, teams can be better prepared to tackle the digital space and outperform on Twitter with Wise.blue.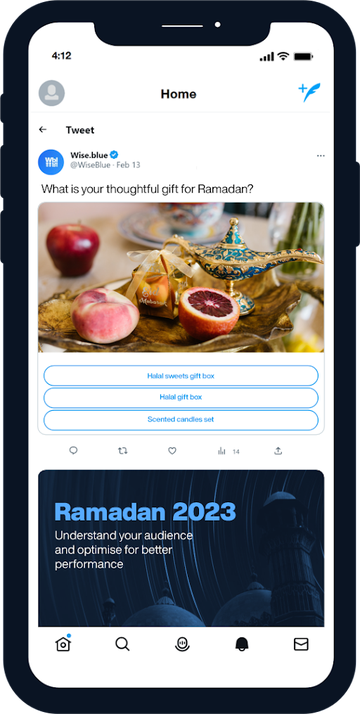 A 2022 Statista survey on consumer behavior in Malaysia found that more people preferred to shop online during Ramadan. 54% of respondents stated that their preferred way of shopping was online with 50% preferring to shop on mobile devices. while 79% indicated that they would use it to find new deals and promotions. Furthermore, 74% of people intended to get inspiration and shopping ideas from social media.
In essence, it's time for ecommerce and retail brands to join the conversation online. So, get your team together, generate engaging, Ramadan-focused content, and set up your Twitter campaigns while you plug in Wise.blue's automation features for the 'heavy-lifting'.

Why should you use Twitter for your Ramadan campaigns?
Twitter is always at the forefront of the biggest conversations and the most notable celebrations and this undoubtedly includes the holy month of Ramadan. In 2022, 1.6 million Ramadan-related tweets were sent out by 161k unique Malaysian authors while 564k unique Indonesian authors sent more than 3 million Ramadan-related tweets. With the 2023 Ramadan celebration coming up, the Twitter conversation has already kicked off. Users are looking forward to Ramadan this year and most of them (90% of Malaysians and 69% of Indonesians) are optimistic about the upcoming celebration.

On the topic of shopping habits, people are planning to shop more this Ramadan. With 10 million shopping-related tweets sent by Malaysians in 2021 and 48 million sent by Indonesians in the same year, it's evident that users love to treat themselves and their loved ones, and this is even more prevalent during the special month.
For brands looking to connect with potential customers during Ramadan, Twitter is arguably the best platform for building brand awareness and reaching more audiences. From discovering trends to finding good deals, Twitter is the go-to platform for discovery and purchase recommendation when it comes to Ramadan shopping.
According to Twitter, 62% of Malaysian users visit the site to find good deals and promotions while 51% use the platform to research trends and figure out what to buy for Ramadan. More importantly, Malaysians on Twitter are receptive to brand advertising when it comes to Ramadan shopping content on the platform — 40% of respondents claimed that they're inspired by brand ads of products and services.
For Indonesian users, 57% visit the site to find reviews and shopping recommendations while 44% use the platform to research trends and figure out what to buy for Ramadan. Furthermore, Twitter is the place where people go to discover new products and services, and find ideas about what to gift their loved ones. 
Essentially, with relevant ads and the right content, brands have a chance of reaching more users and gaining customers for Ramadan.

Make the most of Ramadan with Wise.blue and Campaign Automation
Designed to save time, Wise.blue's Automated Catalog Ads works to optimize campaigns by building ads directly from your product catalog, thus simplifying and accelerating the creation of ads.
In turn, advertisers can produce great ads with less effort and enjoy the holiday while connecting with buyers online.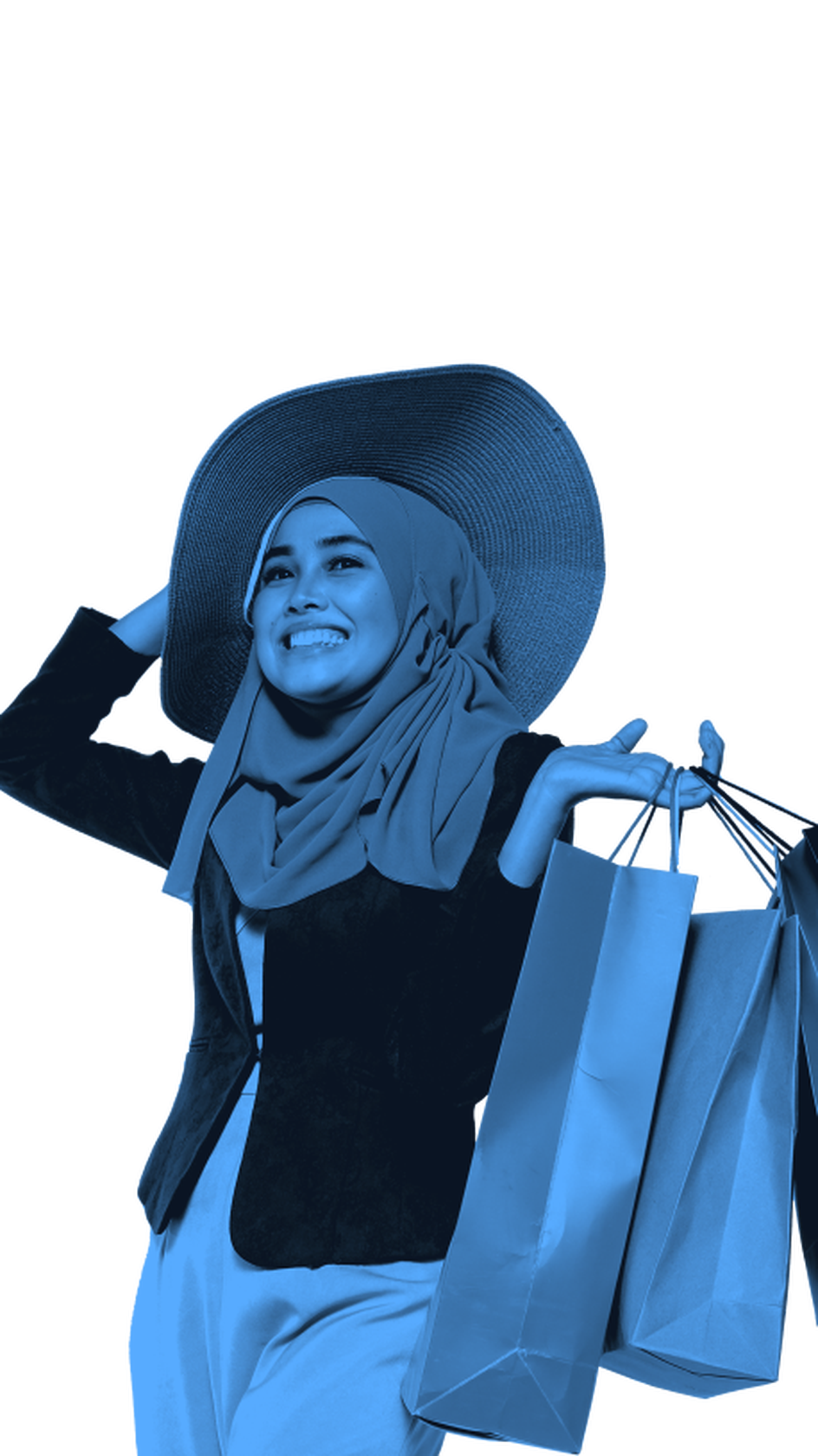 How can you boost your Ramadan campaigns with Automated Catalog Ads?
Automatically create Twitter ads from your product catalog

ACA uses your existing product catalog to create and schedule ads for multiple audiences, allowing you to quickly and easily showcase your best-selling products to users during

Schedule ads before the start of Ramadan

While most Malaysian and Indonesian users shop during Ramadan, one-third will start shopping before Ramadan begins. Essentially, brands are more likely to gain conversions if they start the campaigns early and schedule relevant content in the lead up to Ramadan.

Publish multiple ads with variations in visuals and text

With ACA, retail and ecommerce brands can target various customer groups using different sets of creatives, texts and CTAs to advertise their products.

Share your Ramadan offers

As most shoppers during Ramadan use the platform to find good deals and promotions, brands can win over customers and boost conversions by sharing product offers and discounts with audiences.

Regularly refresh ads after you update your product catalog

Many Malaysian and Indonesian users (51% and 44% respectively) are constantly looking at what's trending to help them make purchasing decisions. With ACA, advertisers can regularly refresh and update ads and ensure that they're always sharing relevant content that's focused on what buyers are looking for at every point in time.
Connect with Audiences and Grow Engagement for Ramadan
 Brands can build awareness for Ramadan by actively participating in the Twitter conversation and interacting with users early on. 
With Wise.blue's Poll Ads and Conversation Cards, you can ask your followers Ramadan related questions and get their opinions on their favorite gifts to buy, what they love to eat during Iftar, the shows they watch during the month, and more.
Advertisers can also build relationships with users by enabling one-on-one interactions and offering them personalized brand experiences that will foster brand loyalty.
Our Heart2Remind feature will help you keep your audiences updated on special Ramadan offers or share gift recommendations with them. You can also tailor messages to each customer to deliver a personalized experience or delay responses so they act as reminders/updates. 

Ready to win over audiences for Ramadan and gain more conversions with automation? Reach out to Wise.blue today and let us help you outperform on Twitter!
Connect
Ready to outperform on Twitter?